The August 2021 Paramedic Program is now full.
We are still accepting applications for the January 2022 Paramedic Program.
Schedule
Center for MEDICS offers two paramedic programs each year, one that starts in February and one that starts in August. You must be an EMT-B to apply. Both programs run for eleven and a half months, allowing you to achieve certification within one year.
The two cohorts meet on Tuesdays and Saturday from 0800 to 1700 for the first half of the program. Once you begin your Clinical and Field Internship the class meets once a week on Wednesdays 0800 to 1200.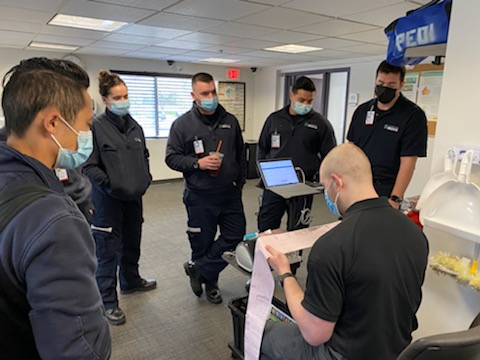 A non-refundable application fee of $75 is required before the interview. Tuition cost is $13,995. The paramedic program tuition provides each student with:
his or her own iPad
electronic textbooks
required uniforms
malpractice insurance
immunizations
drug testing (as required by the clinical sites)
24-hour access to the training facility
access to our medical resource library
student lab and extra help sessions
clinical internship placement and appropriate credentialing
clinical rotations that allow the student to meet all clinical competency requirements through patient assessment and skill performance
field internship placement
eleven in-class certifications, including CPR, ACLS, PALS, AMLS, PHTLS, CEVO, FCCS, EMS Safety, CPR instructor, S.T.A.B.L.E. and Difficult Airway Course.
Graduation fees are included as well. Within 11 months of starting the CFM program, all successful students will be eligible to complete the NREMT Paramedic Practical exam. Payment options include check, cash, credit card (MasterCard, VISA, American Express), purchase order from a town, fire department, or employer, or TuitionFlex.
Refund Policy
Students who terminate enrollment (including voluntary resignation, illness, suspension, or involuntary resignation or dismissal) may be eligible for a refund in accordance with our current policies.